In her book The Not So Big House, architect Sarah Susanka postulates that we tend not to build living structures that reflect how we actually live. Homes are sometimes built to impress the people outside rather than be comfortable for those inside. Vaulted ceilings and master suites are regal, but go to a party and see where people hang out: in the kitchen or smaller rooms.
Susanka stresses creating spaces that suit what you really do. A formal dining room may seem elegant, but unless you're throwing dinner parties on a regular basis, it's a waste of space. Most of my friends who live in homes with formal dining rooms end up turning them into home offices or game rooms.
We moved to a new (to us) place about 12 years ago, which more than doubled our living space. Going from an 800 square-foot two-bedroom home to one with over 2000, we were stunned. My wife and I were forced to look at things differently. We gave serious thought and reflected on how our family lives, and came up with a plan that utilizes space in a way that most reflects our values.
This is also manifested in our former garage, which hasn't had a car in it in 11 years. That's because my garage is a blacksmith and woodworking shop on one side, and canoe, kayak, and bike storage on the other side.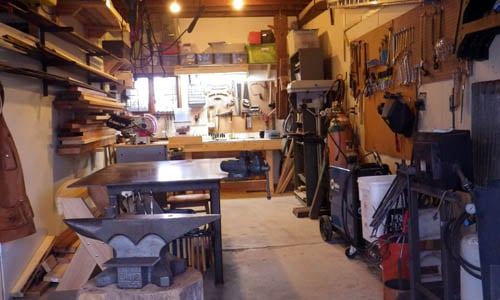 Now I understand the allure of putting cars in a garage. If I were lucky enough to have a 4-car garage I would definitely put our cars to bed under a roof, but city life means compromises. Which to give up? Obviously we made the right decision…for our family.
If you've ever thought about turning your garage into a blacksmithing or woodworking shop (or both), below I offer some thoughts on how to do it, as well as why you should consider making your dream a reality.